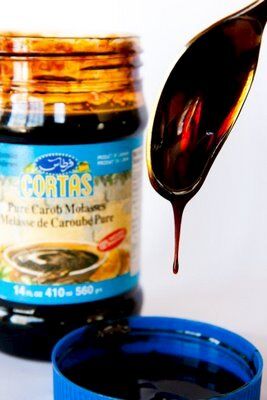 I knew I wanted carob in my Teeccino-inspired cupcakes. However, I hadn't decided on which form to use. I knew of carob powder and carob chips, but the grocery I was at only had carob molasses. I figured that would have to do.
Carob molasses smells a bit like regular molasses combined with carob (which essentially tastes/smells like a mild chocolate).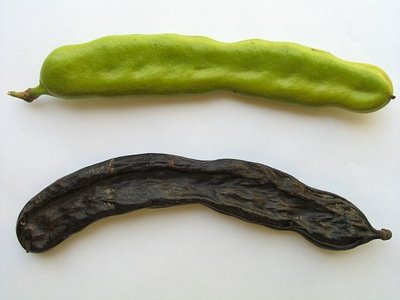 Unripe and ripe carob pods.
Photo from Wikipedia commons.

There is very limited information about carob molasses online. The best source that I found was Slow Food Beirut.
Dibs el kharrub, or carob molasses, is a thick syrup made by soaking milled carob pods in water and reducing the extracted liquid. It is produced in large quantities in the area of Iqleem el kharrub (the district of carob), located in the foothills of the Shuf mountain district south of Beirut.
In Lebanon, carob molasses was traditionally used as an alternative to sugar. Mixed and served with tahina or sesame paste, for example, it is still eaten as a dessert called dibs bi tahina.
I love the idea of mixing a sweet syrup with tahini as a dessert and I will definitely have to give that a try sometime with my homemade tahini!
Apparently, carob molasses is also delicious as a pancake syrup. I love this blurb I found about it on the blog Yum-Oh!:
Ever since discovering Carob Molasses, it has been referred to by our group of friends as the original Secret Ingredient, because we started using it in and on absolutely everything – from pancakes to salad dressing – and people's first reaction is always: "Yum-oh! – what's that?!"
If you have a Middle Eastern grocery near you, you may be able to find carob molasses stocked. If not, you may need to order it online. Sadly, it looks like you can only buy it online in a three-pack – so you may need to find some friends to share it with.
About the Post Title
At dinner last night, I was reminded of the fact that a good friend of mine did not receive a job offer at a company (which shall remain nameless) because he used h-e-double-hockey-sticks during the interview. He just used the "offensive" term once, but apparently that was enough to do him in. In his honor, I stuck with the far less risque term, heck.