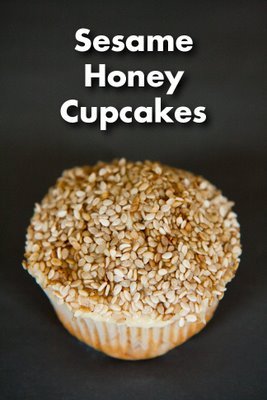 I wanted my sesame honey cupcakes to taste like sesame honey crunch candies. I know I was an unusual child, but sesame honey crunch candies were some of my favorite candies (I have always had a love for anything with honey). Perhaps, I wasn't as strange a child as my husband, though, who for some inexplicable reason called sesame honey crunch candies "chicken bones." Did anyone else do this?
Did the Sesame Honey Cupcakes Taste Like Sesame Honey Crunch Candy?
Yes, the sesame honey cupcakes tasted just like sesame honey crunch candies! Those (like me and Jonathan) who love sesame honey crunch candy loved these sesame honey cupcakes. Those who do not like the flavor of sesame and honey, like my mother in law, did not like these. Lastly, those who had never had anything with sesame and honey, like my friend who was in from Seattle, simply didn't know what to make of them.
You should know that like the candies, the cupcakes are not overly sweet and strike me as kind of mellow and cozy – a cupcake that you would have with some steamed milk rather than an espresso.
Groom 2.5 suggested that the cupcakes might go well with some kind of fruit filling. I agree, but I think that would in some way detract from their simple nature.
The Sesame Honey Cupcake Recipe
I got the recipe for the sesame honey cupcake from Curiously Ravenous. Her recipe was absolutely perfect for what I was looking for! I am reprinting it below with my notes.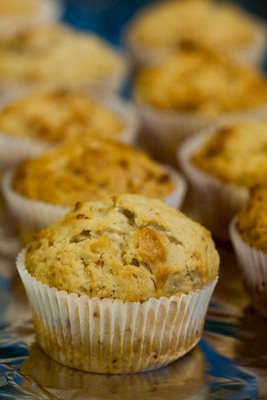 The
Sesame Honey Cream Cheese Frosting Recipe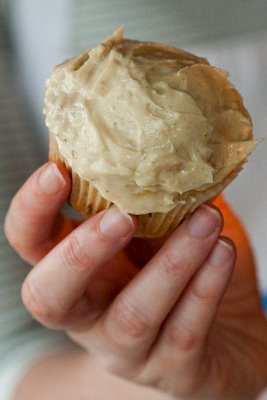 Curiously Ravenous used a sesame honey buttercream frosting on her cupcakes. Since I'm not a buttercream fan, I opted for a Cupcake Project original cream cheese version. You might notice the absence of sugar in my recipe. Whenever I've added powdered sugar to a frosting recipe with honey it, the level of sweetness disgusts me!
The Dunk and Drizzle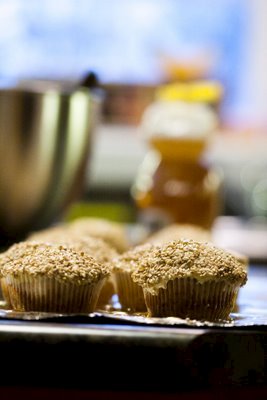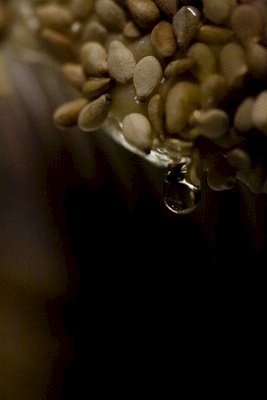 The photo above is really just another opportunity to show off Jonathan's new macro lens!
Related Recipes
If you would prefer to make the actual sesame honey crunch candy instead of a cupcake recipe inspired by it, you might want to check out Alanna's recent sesame candy recipe. I haven't personally tried it yet, but it sounds fantastic.
If you would prefer a cupcake recipe based on another favorite candy, you might want to check out my Ferrero Rocher cupcakes.