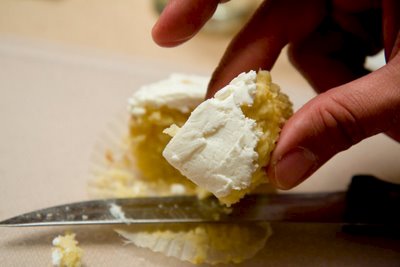 Miracle Fruit Cupcakes
I made special cupcakes just for the miracle fruit flavor tripping party: grapefruit lime cupcakes topped with goat cheese. The kicker is that they have NO SUGAR. By no sugar I don't mean that they have some kind of sugar substitute or honey or agave, I mean there is nothing sweet in them except the natural sugar in grapefruit and lime.
Prior to eating a miracle fruit, the cupcakes didn't taste as bad as I thought they would. They tasted a bit like a somewhat sour biscuit. After eating the miracle berry, the cupcake tasted – like a cupcake! It was much sweeter and the goat cheese tasted like a mildly sweet frosting!
Miracle Berry Cupcake Recipe
Warning: Only Eat This Cupcake with Miracle Fruit
Ingredients
Cucpake Ingredients

2 C flour
1/2 t baking powder
1/4 t baking soda
1/2 C (1 stick) butter
1/4 C grapefruit juice
1/4 C lime juice
1 egg
1/4 C plain yogurt

Miracle Berry Frosting Ingredient

Goat cheese
Instructions
Cupcake Instructions

Mix together the flour, baking soda, and baking powder and set aside.
In a medium-sized bowl, cream the butter. (It was so weird to cream the butter without adding sugar!)
Add the juices.
Mix in the egg.
Slowly add the flour mixture.
Mix in the yogurt until just incorporated.
Fill the cupcake liners almost to the top. Bake at 350 F for 20 minutes.

Miracle Berry Frosting Instructions

Spread goat cheese on the cupcakes. (That's it! No sugar, no butter, no whipping!)
http://www.cupcakeproject.com/2008/08/warning-only-eat-this-cupcake-with.html