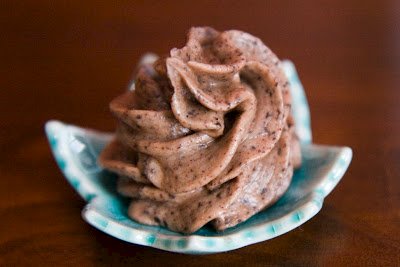 I don't like to play favorites with my recipes. I enjoy almost all of the cakes and frostings that I make. However, I will openly admit that my favorite frosting is chocolate cream cheese frosting.
The chocolate cream cheese frosting recipe is at the bottom of this post, but first I want to talk about the key ingredient – cocoa powder.
Single-Origin Cocoa Powder
Recently, I have become interested in single-origin chocolates. I have previously written about Patric chocolate, Askinosie chocolate, and TCHO beta bars.
After I posted about the Askinosie chocolate, I got an email from Kesha Quigg, Pursuer of The Passionates, at Askinosie. I think that may be the second coolest title I've ever heard – the first being Maxine Clark, Chief Bear at Build-a-Bear Workshop.
Kesha told me that they had been reading my blog. Thanks! She went on to say:
"Shawn Askinosie loves cupcakes and his obsession with them led him to making chocolate. He was a criminal defense lawyer and started grilling for stress relief. He then became obsessed with cupcakes and wanted to sell them but they didn't lend to easy shipping. He then became passionate about chocolate."
They offered to send me some more bars of chocolate and some single-origin cocoa powder. How could I possibly turn down a fellow cupcake fanatic offering to send me some free chocolate? I was particularly happy about the single-origin cocoa powder.
"Nothing is quite like our Natural Cocoa Powder. We are the only small-batch chocolate maker in the U.S. to make it. Our Natural Cocoa Powder is made right in our factory using the same beans we use to make our Del Tambo Dark Chocolate, creating a authentic single origin powder. It is unsweetened and non-alkalized
and perfect for baking."
How would it be in my favorite chocolate cream cheese frosting recipe?
My First Problem – How to Open the Container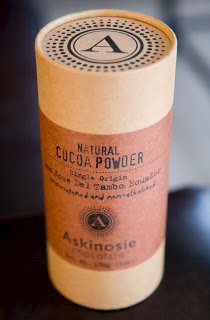 My initial problem with the Askinosie cocoa powder had nothing to do with the cocoa powder. I couldn't figure out how to get the container open. It had such a slick looking package. However, it was not at all obvious how to open it and I worried that when I cut into it, the precious cocoa powder would go flying all over the floor. It turns out that it wasn't tough; I used a knife to pop off the top and there was a plastic bag of cocoa powder inside.
My Second Problem – The Cocoa was Too Coarse
My second problem with the cocoa was that it was a bit too coarse. If you look at the frosting photo you will notice that there are small specks of chocolate in it. It's not smooth. This didn't much bother me in my frosting recipe. However, for an all-purpose cocoa, smoother is better so that it doesn't clog up even the smallest piping tip.
A HUGE Surprise – My Problems were Solved Without Asking
The day after I made my chocolate cream cheese frosting (note that I had not yet mentioned anything to Askinosie about it), I received another package in the mail with the following letter from the Pursuer of The Passionates:
"Included is another sample of our San Jose Del Tambo Natural Cocoa Powder. Based on feedback from a few of our customers comments, we decided that the powder has a great taste but needed to be refined a bit more. I think you will find a significant difference in the particle size and find that it is easier to work with."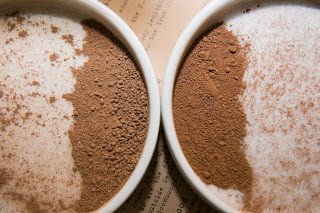 The cocoa powder on the left is from my first sample and the powder on the right is from the new sample. I haven't baked with the second sample yet, but it does appear to be finer.
Although they didn't address it in their letter, Askinosie also solved my first problem.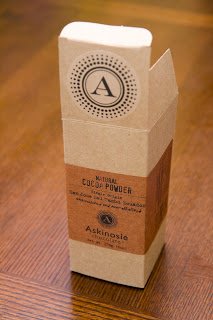 Note in the photo above that the new container is so easy to open.
Is it Worth the Extra Money to Get Single-Origin Cocoa Powder?
I know you expect that I am going to say that it is definitely worth the $11.50 plus shipping to buy the single-origin cocoa powder. However, I'm not going to say that. It entirely depends on your tastes and to whom you are serving your baked goods.
One of the best blog posts I've read in a while was on the Evite blog. I wasn't a regular reader (it's now in my RSS), but I happened to be over there sending out at Evite when I came across a cookie taste test blog post.
The blog author (there was no name cited) talks about an experiment where he/she served three different types of Toll House chocolate chip cookies:
Homemade with high end ingredients (like real vanilla extract)
Homemade with cheap ingredients (like imitation vanilla extract)
A store bought log of dough
Surprisingly to me and perhaps other ingredient snobs, the author found that "there was no clear favorite, and very few people guessed correctly. The people who were used to the log seemed to like it best. Those who tended to eat high-end ingredients favored the expensive cookies." The conclusion of the post was that you needed to know your audience.
Single-origin chocolate does not taste like Hershey's. It has a much more complex flavor. It's so different that my mother-in-law thought that there was some mystery ingredient in the frosting to account for the different flavors. If you like single-origin chocolate or just want to try a more dramatic chocolate flavor, try the Askinosie cocoa powder.
Since Tempered Woman recently gave me a hard time about not stating my personal opinion, I'll clarify that I LOVED the cocoa powder.
My Favorite Chocolate Cream Cheese Frosting Recipe
If you just came here to read the recipe, you're probably getting antsy. Here it is: