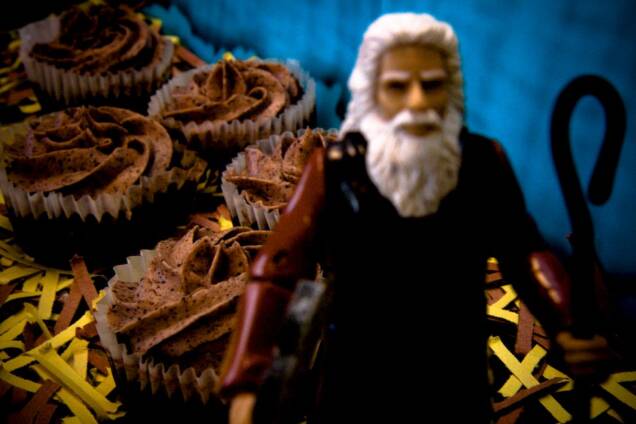 Moses raised his staff and parted the Red Sea. The Kosher for Passover chocolate cupcakes began their journey to the promised land. Since they didn't have time to wait for bread to rise, the only food they brought along was – themselves.
If you're only going to have one dessert at your Passover table, don't make it a macaroon from a can, make it a flourless chocolate cupcake that is so good that you'd want to eat it even if it were not Passover. If you want a second desert, try these Passover charoses cupcakes.

I would highly recommend making the flourless chocolate cupcakes as mini-cupcakes. They are incredibly rich (they essentially taste like and have the consistency of chocolate fudge) and if there are any other desserts on the table, people will not be able to eat an entire cupcake.
The Kosher for Passover Chocolate Cupcake Recipe
I got the flourless chocolate cake recipe from Allrecipes. I am reprinting it here with my notes describing how to make it into cupcakes.
If you take your "kosher for Passover" to more serious levels than I, you will want to use kosher versions of all of these products. If you are of the mindset that chocolate doesn't rise so it's kosher for Passover, then just go for the best ingredients you can find. The quality of the chocolate really matters in this recipe since it's all about the chocolate.
Kosher for Passover Chocolate Cupcakes: Flourless Chocolate Cupcakes with Chocolate Cream Cheese Frosting

Ingredients

1/2 C water
1/4 t salt
3/4 C white sugar
18 oz bittersweet chocolate chopped into small pieces
1 C unsalted butter (room temperature)
3 eggs
3 egg whites

Instructions

Combine the water, salt, and sugar in a small saucepan over medium heat. Stir until completely dissolved and set aside.
Either in the top half of a double boiler or in a microwave oven, melt the bittersweet chocolate.
Pour the melted chocolate into the bowl of an electric mixer.
Cut the butter into pieces and beat the butter into the chocolate, 1 piece at a time.
Beat in the hot sugar-water.
Slowly beat in the eggs and the egg whites one at a time.
Pour the batter 3/4 to the top of lined cupcake tins. These don't rise (hence the kosher for Passover status) so you can go higher if you'd like.
Have pans larger than the cupcake tins ready. Put each cupcake tin in a larger pan and fill the pan with boiling water halfway up the sides of the cake pan. (You can get an idea of how I did this in the picture at the right. Mine could actually be filled a bit higher. I filled it more in my second batch.)
Bake cupcakes in the water bath at 300 degrees F (150 degrees C) for 30 minutes. The center will still look wet.
Do not take the cupcakes out of the tin! Wait until the tins are cool enough to handle with your bare hands, then put the entire cupcake tin in the fridge until it is cool. Then remove the cupcakes from the tin and frost. If you take the cupcakes out of the tin while they are still hot, they will lose their shape.

Notes

http://www.cupcakeproject.com/2008/04/kosher-for-passover-chocolate-cupcakes.html