Chocolate mousse is not low calorie. I'm not going lie to myself about that. However, this chocolate mousse has no sugar, butter, or heavy cream in it, which makes it a relatively low-cal chocolate mousse.
Did I Miss the Sugar and Cream in My Mousse?
I did not miss the sugar or the heavy cream in the mousse. If you use good chocolate, the flavor of the chocolate is able to stand on its own. The mousse was rich and decadent. I would never have guessed that there was no added sugar.
This Mousse Has Coffee Flavor in It
The Relatively Low Calorie Chocolate Mousse Recipe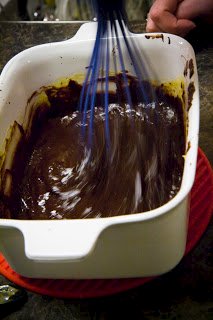 Relatively Low Calorie Chocolate Mousse: Made From Scratch with Raw Eggs

Ingredients

8 raw eggs, separated (If you are concerned about egg safety, [read my post on eggs|http://www.cupcakeproject.com/2008/02/egg-safety-cholesterol-and.html. I used pasteurized eggs.)
8 oz. bittersweet chocolate (I used [Scharffen Bergerhttp://www.scharffenberger.com/]|)
1 Tbsp. brandy
3 Tbsp. coffee (I was too lazy to make coffee so I used 2 t of coffee extract instead.)

Instructions

Beat the egg yolks until they are yellow. Place the broken-up chocolate in a small oven-proof dish; pour the hot coffee over the chocolate and put it in a hot oven and let the chocolate melt until it almost gets thick. Take it out of the oven and mix with a beater or wire whisk, adding the egg yolks. After they are incorporated, add the brandy. Whip the egg whites until they are foamy and hold soft peaks. Take two Tbsp. of egg whites and add the chocolate, then fold in the rest of the egg whites carefully. Pour the mixture into a glass bowl or individual serving dishes, and chill in the refrigerator for a few hours; the mousse will thicken up as it chills.

Notes

*This recipe serves 8. In my case, it filled all 16 of my Better Than Sex Cupcakes with plenty left over for snacking.

http://www.cupcakeproject.com/2008/02/relatively-low-calorie-chocolate-mousse.html
Better Than Sex Cupcakes